When Tea Törmänen, who returned to Hammaslahti after living abroad, saw what she owed the hairdresser after getting her hair done, she burst out laughing. "For the price of an apartment in Espoo, you can get a big detached house here," says Tea.
Tea Törmänen, 40, who grew up in Hammaslahti, got to see the world already at the age of 15. Tea, who was admitted to the English-speaking upper secondary school in Kuopio, did not return to her home town for years, as her path after upper secondary school took her to Lappeenranta to study as a physiotherapist.
"The work of a physiotherapist didn't seem like a career I could see myself doing for the rest of my life, so I applied to the University of Oulu to study biology."
After completing her Bachelor's degree, the road called to her once again. Tea's path led her to a master's degree programme in England, where she graduated with a Master's degree in Ethology in 2015. At the time, the 32-year-old Tea already had a life partner, Iiro Rantahalvari, and a one-year-old daughter, Sandra.
"I had played American football before, but you couldn't really play it in England, so I switched to rugby for a while. However, I wanted to continue playing football, so we moved back to Finland, to Espoo."
Tea started playing American football in Roosters in Helsinki. The power player didn't lose a step in Finland, as she set her eye on a doctoral programme at the University of Helsinki.
"However, I didn't complete the degree because I ended up in a management position at a new international environmental organisation. I came to realise that it wouldn't be possible to prepare a dissertation while also having a demanding job at the same time."
Once upon a time, there was a COVID-19 pandemic
Tea is still working in the same position. In the early spring of 2020, when the COVID-19 pandemic hit Finland, Tea was visiting her childhood home in Hammaslahti with her family.
"It was a snowless winter in the capital region. We were living in a small flat in Espoo."
Tea and Iiro had had their second child, Enja, in 2018. The COVID-19 pandemic hit Finland hard in the early spring of 2020. Tea was left cut off with her children in Hammaslahti. It took a global pandemic for Tea to understand what really mattered in life.
All the signs started pointing towards the fact that it might be time to return home. Tea's parents were living in Tea's large childhood home but had already been considering selling their house for a while.
"My grandmother died a few years ago, and my parents wanted to move in with my grandfather in Rantakylä so that he wouldn't have to move into a home for the elderly."
"I called my husband and said that I didn't want to leave here."
The idea of returning to a cramped apartment building distressed Tea, as she had already got used to the space and nature she could enjoy in Hammaslahti.
"I called my husband and said that I didn't want to leave here."
"By then, we had moved quite a few times, and he agreed to the move on the condition that he would never have to move again," says Tea with a laugh.
Tea had always wanted to live in the countryside, but the right time had not presented itself. But now it had finally arrived.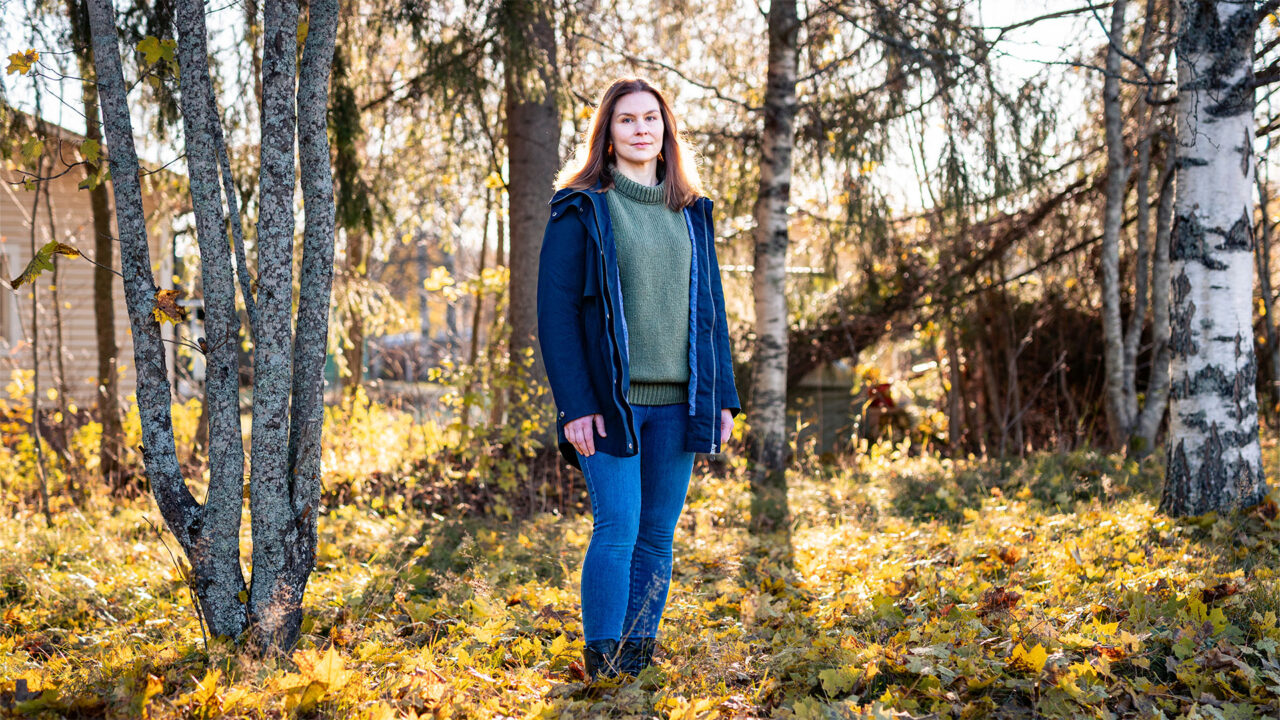 No more internal unrest
Tea could work exclusively remotely, but Iiro's current work didn't allow for teleworking.
"Iiro is from Kemijärvi, and he doesn't know anyone in Hammaslahti, but he still wanted to move here," says Tea. Tea has moved every two or three years throughout her life, but now she says she has found a home where she wants to stay until the end of her days.
"I've always felt restless, but now that's over. I'm planning on living out the rest of my days here," says Tea.
Tea and Iiro ended up buying Tea's childhood home.
"Housing in Hammaslahti is so affordable that you couldn't get any apartment in the capital region for the same price."
Tea and Iiro's detached house has a monthly mortgage payment of EUR 500.
"In Espoo, we were paying 1,300 euros per month for a small flat," says Tea.
Tea was so surprised by the affordability of living that she burst out laughing when she heard what she owed the local hairdresser for getting her hair done.
"For long hair, dying and cutting cost 80 euros," says Tea.
In the capital region, the price is almost triple. Hobbies are also more affordable and, according to Tea, you can easily get everywhere by electric car, so you don't need to pay for petrol either.
Iiro also got a job in customer service at Osuuspankki. Iiro can now do his work remotely, so the couple sometimes telework together from their Hammaslahti home.
Since Tea has her roots in Hammaslahti, getting accustomed was easy. Iiro has also made friends there, as Tea says that it can be mind-boggling how friendly the North Karelians are.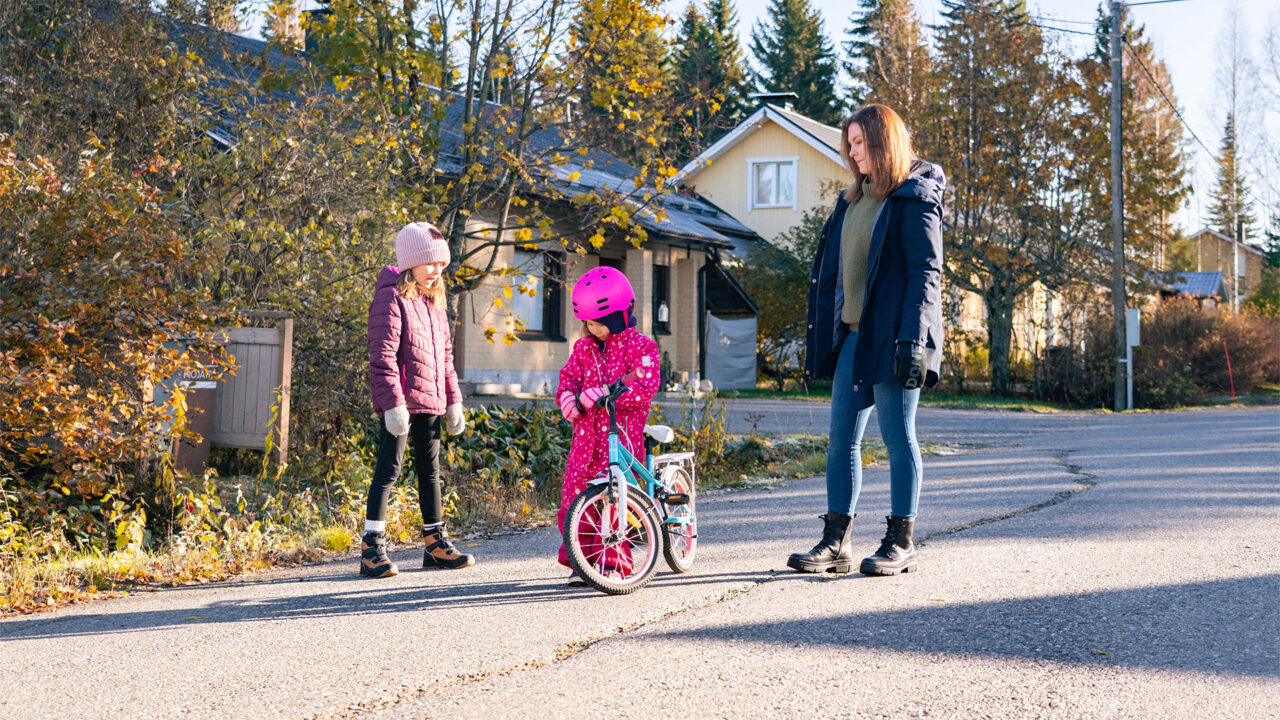 "I've lived in so many different places that I have multiple points of comparison. People here are unbelievably receptive and friendly, in customer service and otherwise," says Tea
In Hammaslahti, it's nice to live in peace and quiet, but you also get to spend time with a diverse circle of friends and acquaintances.
Everything a family with children needs
With respect to Hammaslahti, Tea praises the affordability of living and the offering of services, which are more than enough for a family with children.
"A health centre, a pharmacy, a library and affordable hobbies," says Tea, listing the pros of Hammaslahti.
Hammaslahti also recently received a fibre-optic network, which gives you a high-speed internet connection that makes for smooth teleworking days.
You would think that the walls would start caving in on you when living in a rural region while also working indoors. However, Tea ensures that this is not the case, as her traveller's spirit no longer beckons her to seek a change of scenery; instead, business trips and hobbies outside the home keep her busy.
"I have regular business trips. I'm just on my way to Dubai for a business trip at a climate conference. Iiro and I both enjoy the countryside, not crowded cities."
"In Hammaslahti, it's nice to live in peace and quiet, but you also get to spend time with a diverse circle of friends and acquaintances."
Tea has found a nice volleyball team in her home town as well, and the children also have a lot of hobbies.
"My family and siblings live here. We have a support network here that we didn't have in Espoo. There's plenty to do in Joensuu if you want to stay active," says Tea.
When you move here, you need to be able to appreciate the peace and quiet.
Luxury of time and winter sports
People have asked Tea why she wanted to move to a place "with nothing to do".
"I beg to differ. For me, the capital region doesn't have the things I want to do. The opportunities for winter sports are much better here," says Tea.
"The quality of life is so much better here, as it doesn't take so much time and money to run your everyday life. We can enjoy the luxury of time here. There's time to read a book on the sofa and just relax," says Tea.
However, what is clear is that moving to a rural area is not suitable for everyone.
"When you move here, you need to be able to appreciate the peace and quiet. In North Karelia, you can choose whether you want to live in the city of Joensuu or here in the countryside," says Tea.